Prior to starting this page I've done a lot of different repairs and maintenance. This page will list what I have done and at a later date I'll document the processes I used to complete these repairs and maintenance.
Simple repairs I have completed
Replace battery – I've had to do this twice. Not driving all that frequently and that can impact a battery's life.
Replaced spark plugs – One of the first things I did when I purchased my Corvette. You never know when the last time these were replaced so this is something I always recommend when purchasing a used car. The spark plug wires can be replaced at the same time too. For my Corvette, I could tell they were relatively new so I didn't mess with them.
Adjusted timing – Another thing I did when I first purchased my C4. It didn't seem to be running correctly at the time so this is one of the first things I checked. I also had to readjust it down the line, like just last year. This will happen if your don't get your distributor tightened down completely.
New seat covers – As mentioned before, my 1985 actually came with cloth seats, kind of strange right? They were comfortable enough so I thought I would keep them but they were pretty ugly. Seat covers are an easy and inexpensive way to improve the looks of your interior.
Cleaned the TPI – Once again, something I did when I first purchased the car. It's a good idea to clean the throttle body on your vehicle if your have one and this is not exception. I've done it on my Ram 1500 as well.
Replaced fuel filter – Good idea when putting in new fuel injectors is to replace the fuel filter. You don't want any unwanted dirt in your new injectors.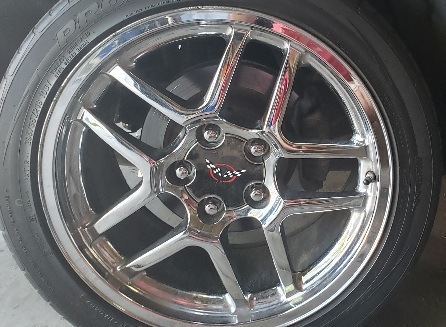 Added C5 Z06 wheels – I've always been a traditionalist when it comes to classic cars and especially Corvettes. I like when they look original. I have the original C4 wheels that match my year and I have used them for quite a while but I have always loved the C5 Corvette Z06 wheels. Probably one of my favorites out there. I picked a set on Craigslist for a pretty low price. Guy said they were replicas but when I got them home and cleaned them I could see the Speedline stamp on the inside. Pretty good score.
Muffler delete – Another upgrade I did right after purchase. The standard mufflers were too quiet, it didn't sound like a Corvette, or at least what thought it should sound like. Muffler deletes did the trick. Great sound but not too loud.
Cleaned and repainted valve covers – See detailed instructions here.
Repaired passenger side headlight – Headlight quick flipping open. Most of the time this issue is caused by the little plastic gears wearing out. Not on mine, it was really a long process. I plan to document that soon.
Fixed the spare tire carrier – I kept hearing a rattling noise at the back of the car when I would hit a bump. It took me a couple of times looking but I discovered the spare tire carrier wasn't put back on correctly. It was not hanging on the correct hook if your will. Once that was corrected the sound went away.
Difficult Repairs I have completed
Replaced clutch master and slave – Clutch pedal went down to the floor with no resistance. Wasn't 100% sure but started with the master and slave replacement. Turned out this was the problem. This will be another project I will document in detail in the future. Not especially hard but it does have issues like getting the clutch clip off and on the pedal That connects to the master cylinder and getting all the air out of the line. Instructions on how to do this here.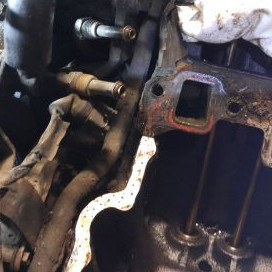 Removed intake manifold – This is a pretty major project. I think it too me 3 months from start to finish, but I took my time and wasn't able to consistently work on it. Another project that will be document soon. While I was at I also:

Replaced fuel injectors
Replaced gaskets
Replaced thermostat

Flushed transmission and replaced fluid – I ended up not really needing to do this. It looked like the fluid was still relatively new when I got in there but I did it anyway.
Replace rubber around doors and top – The rubber around the window was especially bad. Replaced those and the rubber on top of the windshield as well. The key is cleaning up the old glue and crap left behind when taking off the old stuff.
Things I want to do
Replace breadbox – The big bumper always looks a little funny to me. Plus it gets in the way when entering or exiting the passenger seat.
Replace valve seals – I have a small puff of blue smoke at start up. I believe some oil seeps down in the cylinders when it sits for a while.
Fix the front air dam pieces. I have the middle one still on but the 2 side ones are missing.
Upgrade the exhaust – I'm not really sure what to do here. Generally, muffler deletions sound good, but a better exhaust would improve performance. Although my Corvette is over 30 years old I still have to get an inspection on my exhaust system. One thing they do is check for the catalytic converter. Since I got the collector car plate it's every 5 years but still gets inspected. Do I:

Leave it as is?
Put in a high flow cat?
Make it so I can do an easy swap out and put a cat back on for emissions testing and a straight pipe all other times?

Replace the rest of the door seals – As mentioned above, I replaced some rubber but the rest, like at the bottom of the doors, is completely deteriorated and should be replaced.
Replace Fuel pump – At one point I thought I was having fuel issues and the pump needed to be replaced, but I have all that sorted out. Leave it alone I guess.
Upgrade breaks – Once again, not sure what I want to do here.

Just upgrade pads and rotors?
Do a C5 upgrade. I can do this with the bigger C5 rims i have on it now

Adjust parking break – It kind of works, it needs more of an adjustment I think. I need to dive in a figure that out. It's a little concerning when your're not sure if your parking break works or not.
Improve carpeting – I'm not a big fan of my brown carpeting. Do I replace it all? I was thinking about black, I just have always liked a black interior and it would match my seat covers.
Replace the shocks – I think I still have the originals, I don't autocross or anything like that so some updated shocks would really improve the ride.
Top Tips I've learned
Just a few things I have learned while working on my Corvette. Nothing major but something that might help someone save some time
When taking stuff apart always take pictures or video while taking it apart, it will make it much easier to put stuff back together
Brake fluid is super slick try not to get it all over
Best tool ever, extended magnet, saved me many a time
I've seen lots of adds for those C4 floor jack pucks to put on your floor jack when raising your Corvette to work on. I just us a regular old hockey puck. Works just as well and protects your vehicle. You can cut a line in them as well to match the ones you buy on line.
Sometimes it's OK to buy cheap tools. For instance, I need a breaker bar. If you don't know what that is it's a long handled tool for giving yourself leverage especially on these old Corvettes on tough to remove bolts. Home Depot, the closest store to my house, wanted $80, while Harbor Freight wanted $20. Maybe it is cheaper and breaks but I can buy 4 of them for the price of one.
Lucky for me, my C4 Corvette is an extra vehicle to have a little fun with. This tip won't apply to someone who uses it as a daily driver per se, but if you're working on something and your start to get frustrated, it's a good idea to just walk away for a while. I've walked away a few times, sometimes for an hour, sometimes for a few days. It is amazing how much it can free your mind and help your find another solution to something that seems impossible.
Conclusion
So what is the main point of this page? I just wanted what I have done documented all in one place so I can refer back to begin documenting my process for getting things fixed and hopefully help someone else complete the job in a faster manner than if doing on their own. I feel like anyone who has the interest can learn and do their own work given the time and tools to do it. Plus it brings a great sense of satisfaction knowing your've done it yourself. Plus if your're like me, your've had work done at a shop where they either did it wrong or really screwed something up.
Have a comment or concern? Leave a message below and I'll get back to your quickly.