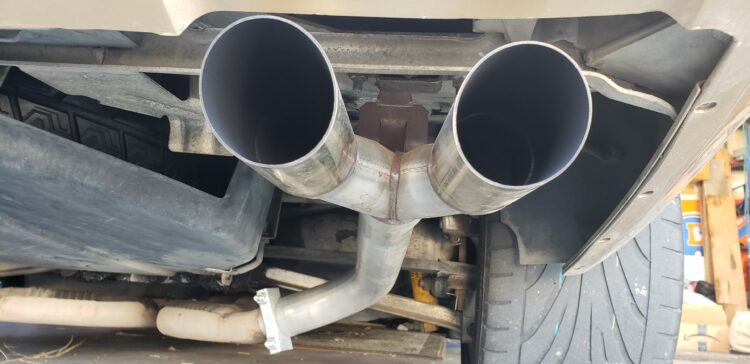 The main reason I purchased my 1985 Corvette was to learn more about it and perform my own repairs and modifications. I grew up in a family familiar with cars. My grandfather had a body shop and did most of the work himself. I wanted to learn more than body repair so I got this Corvette to do repairs and maintenance on my own. After spending some time with my newly purchased Corvette, I learned there were not a lot of major issues that urgently needed to be addressed. It was in very good shape and I could drive it in its current condition with not much work.
I decided I would do some C4 mods and repairs that were relatively inexpensive and easy to do so that I could feel like I was working on it but I wasn't doing anything major to impact drivability.
The below C4 mods I did which were pretty inexpensive, easy and something most people interested in cars could do.
C4 Corvette muffler delete
One of the first things my son and I noticed was 1985 Corvette exhaust was very quiet. It didn't really sound like a Corvette. A quick examination of the exhaust system revealed stock looking mufflers. Pretty safe to say these were replaced at one time or another but they were just regular 1985 Corvette exhaust. From the exhaust manifolds to the catalytic converter out the back exhaust pipes the set up was pretty much as it came out of the factory.
Not wanting to spend a lot on the exhaust, plus depending on your state, you may need to keep the catalytic converter on the vehicle, like here in Colorado. I decided to go with the muffler delete.
Very simple process really, just remove the old ones and add the new. There is a little more too it than that, but its not hard. To removed my old mufflers, I had to actually cut the pipe leading to the mufflers to be able to attach the new muffler deletes. The existing connection to the standard mufflers would just not separate so cutting was necessary. I just used a reciprocating saw to make the cut. I suggest getting the new deletes first before actually cutting anything, that way you know for sure where and how much to cut off. As mentioned above, you can just attached the new deletes with clamps versus welding them on but that is up to you. In the near future I will do a post on the entire process to help anyone looking to do this themselves.
Wheels and tires
My Corvette came with the original 1985 wheels, I had to put on new tires since they were over 10 years old. Just a reminder any tires over 10 years old should be replaced. I could not find 255/60/15 at the time so I went with 245/60/15. Some people say they can tell a difference and the 245's are too small but I thought they looked fine. I was happy with how they looked. Some people like and want to stay with the original look.
Later I was able to find the ZO6 rims that are some of my favorite rims of all time. I think it's a great upgrade to the C4 Corvette and I really like the way it looks. I need to get new tires for them this summer. Putting tires from different Corvette years sometimes requires wheel adapters. I recommend adapters not spacers if you need to do this. I used 2″ adapters to get the spacing correct on for these Z06 wheels to look like they fit my car.
Of course there are lots of after market wheel and tire options to chose from. I suggest getting what makes your Corvette look the best to you. Updated wheels and tires can help give your Corvette a little more personal touch.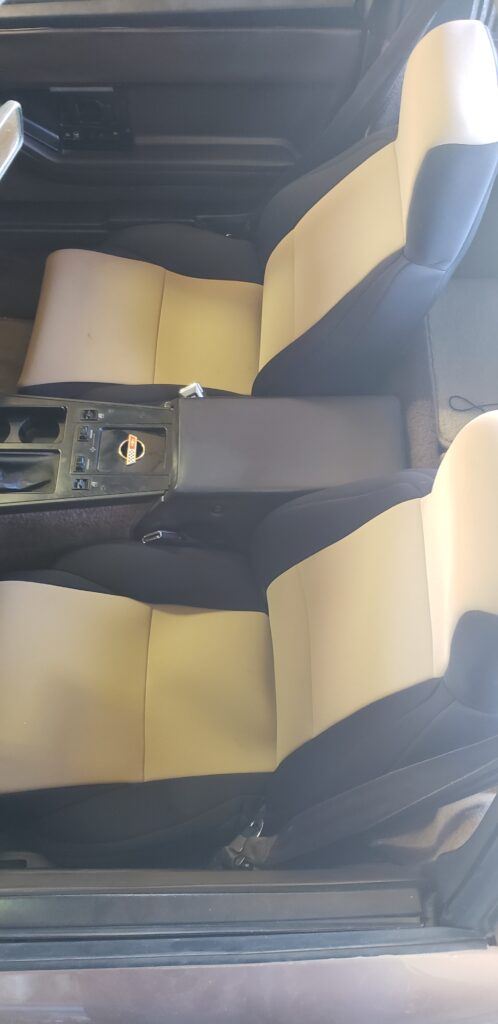 C4 Corvette Interior improvements
Seat Covers – Seat covers are a great way to improve the looks of your seat for a relatively low price. If you don't like the way your seats look but they are comfortable enough, this is a great way to go. Instead of replacing or repairing original seat cover or the entire seat you can use seat covers. My 1985 Corvette actual came with cloth seats not the more frequently seen leather seats. They were still relatively comfortable but looked really outdated. I went with neoprene seat covers on them and I am happy how they look.
Floor mats – A simple and easy upgrade if your carpet is looking bad is to buy floor mats and cargo mats to cover up your current carpet. You can always replace the carpet but if you're looking for an inexpensive way to upgrade and improve the looks of your interior new floor mats work great. There are lots of options out there from all the different Corvette companies and after market sites. There are different color choices, different materials and options for the Corvette name or logo.
Tune up items
I would suggest doing these things to any new to you used car you purchase. Its just good practice to make your vehicle is running its best. These are things I would think most beginners can do.
Replace spark plugs and wires/coil boots.
Set ignition timing
Replace engine air filter.
Replace fuel filter
Basic oil and filter change
Conclusion
I hope this gives some ideas on simple options to improve the curb appeal of your C4 Corvette. Just these changes alone can personalize you vehicle and even give it a more updated look. Torn or ripped seats never look good and floor mats can do wonders for the floor of your car especially if you've had water get in and damage the floor. New wheels and tires can give your Corvette the look you want. The muffler delete pipes can really give you that rumbling Corvette sound.
A tune up might not improve the looks but it can really improve how well your Corvette runs which is a great feeling to hear the when you're cruising down the road.
Have a comment or concern on this post? Want to share another suggestion? Please leave a comment about anything I posted about.