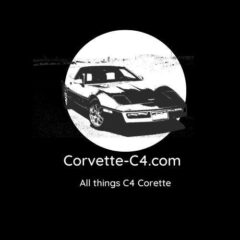 Looking for your first C4 Corvette? Not sure what to look for? Here are some tips and things to look for when buying your first C4 Corvette.
Condition and Maintenance: Regardless of the condition or price of a C4 Corvette, it will require ongoing maintenance and repairs due to its age. Recognize that there is no perfect C4 Corvette, and be prepared to invest money into the car over time.

Inspect In Person: Never buy a Corvette without physically inspecting it. Pictures online can be deceiving, and seeing the car in person allows you to assess its true condition. Buying locally is recommended to make the inspection process easier. If you are looking at one in a different part of the country and you can't go inspect it, try to have someone you trust look at or have it professionally inspected in the area that its in. Most owners trying to sell will gladly take it to an inspection shop for you. If they refuse, end the inquiry quickly and find another car.

Buy What You Want: Choose a C4 Corvette that aligns with your preferences and desires. Consider factors like engine type, coupe or convertible, manual or automatic transmission, and interior style. Make a list of your desired features and stick to it to ensure satisfaction with your purchase.

Familiarize Yourself with C4 Generations: Understand the differences between early and late C4 Corvettes. Learn about custom options versus factory stock models, various engine choices (L98, LT1, LT4, ZR1), and the distinctions between coupe and convertible models. This knowledge will help you make an informed decision.

Early C4 Body Style: Early C4 Corvettes (1984-1989) feature distinct characteristics such as black belt line trim, rear bumper with an inward curve, and specific front-end designs. These details differentiate them from later C4 models.

Late C4 Body Style: Late C4 Corvettes (1990-1996) have a different appearance compared to the early models. The interior and exterior styling evolved, incorporating more modern elements.

Coupe vs. Convertible: Consider the pros and cons of owning a coupe or convertible C4 Corvette. Convertibles generally command higher prices, require additional maintenance for the top, and offer a unique driving experience.

Interior Style: C4 Corvettes had different interior designs for early (1984-1989) and late (1990-1996) models. Decide which style appeals to you more, keeping in mind that each design has its own quirks and potential issues.

Transmission Choices: Early C4 Corvettes offered an automatic transmission or a Doug Nash 4+3 manual transmission with an overdrive button, while late C4s had a six-speed manual transmission. Test-drive different transmissions to determine your preference.

Maintenance and Repair Costs: Consider the potential maintenance and repair costs associated with owning a C4 Corvette. Older vehicles require regular upkeep, and certain parts or repairs may be more expensive than anticipated. Be prepared for ongoing maintenance expenses.

Take Your Time: Once you have narrowed down your preferences, take your time to find the right Corvette for you. Don't rush into a purchase and ensure the car meets your expectations.

Test Drive and Research: Finally, thoroughly test drive any C4 Corvette you are interested in and conduct research on its history, ownership, and maintenance records. Take your time and make an informed decision before purchasing.
Conclusion
By following these guidelines, you can make an informed decision when buying your first C4 Corvette, considering factors like condition, personal preferences, and the unique characteristics of different model years and options. Now you'll be better equipped to buy your first C4 Corvette that aligns with your preferences, budget, and expectations.
Have a question or comment on this post? Leave a message below and I'll get right back to you.