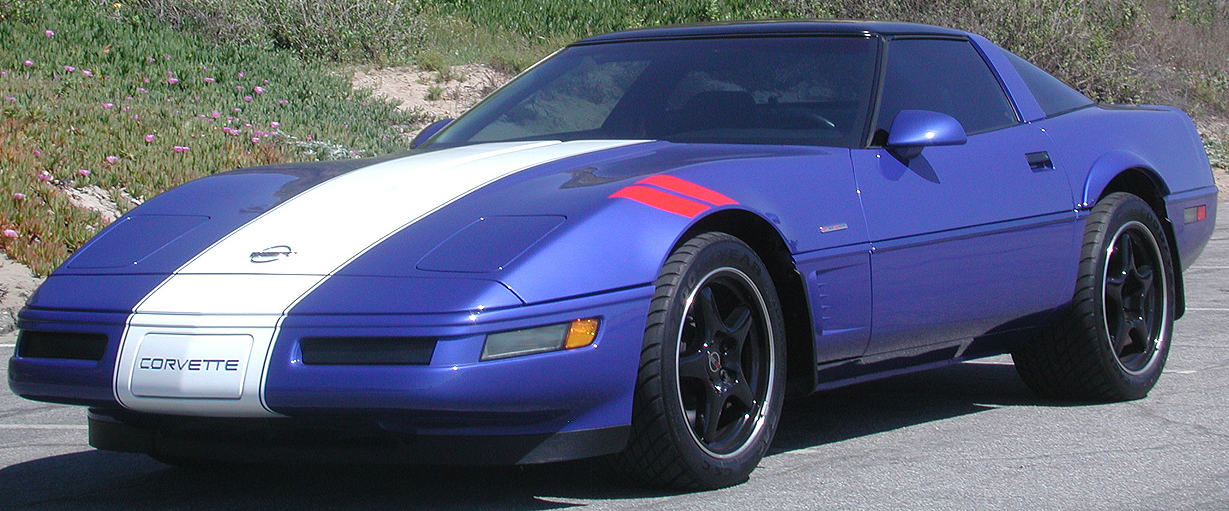 A lot of people ask, what is the best year for C4 Corvette? All C4 Corvettes have their pluses and minuses. The list below is regarded as the best C4 Corvettes to buy and one I also agree with. Something to keep in mind, the best C4 Corvettes will be the most expensive to purchase. These are the rare, high-performance limited production run Corvettes for 1984-1996. They are also considered the ones that may increase in value. This list only includes production Corvettes. There are others like the Twin Turbo Callaway and a few other concept vehicles but those aren't addressed here.
A lot comes down to personal taste, budget and preferences.
Below is a description of the best C4 Corvettes.
Chevrolet released the Grand Sport (GS) in 1995 to mark the end of production of the C4 Corvette's 12-year run. The Grand Sport was created to commemorate the original Grand Sport model from 1963. A grand (no pun intended) total of 1,000 Admiral Blue C4 GS Corvettes that came with a white racing strip was produced in 1996, 810 coupes, and 190 convertibles. The Grand Sport also had black 5-spoke black, two red "hash marks" on the front driver's side hood, and special seat trim for a unique and easily identifiable look. The Grand Sport also has wider tires and the coupes were outfitted with small rear fender flares and only came with the 6-speed manual transmission. The C4 Grand Sport came with a completely unique VIN number.
Performance figures for the Grand Sport with the high output LT-4 engine produced 330 hp and 340 lb⋅ft of torque. The LT-4 engine rocketed down the road at 0-60mph in 4.9 seconds, covered the quarter mile time in 13.7 seconds and had a top speed of 165mph.
GM, with the assistance of the newly acquired Lotus Group, designed the new LT5 for the ZR-1, It was an aluminum-block V8 with four overhead camshafts and 32 valves. Lotus also designed a unique air management system for the engine to provide a wider power band, while still giving the ZR-1 a maximum power output of 375 hp. Lotus also helped GM design the ZR-1's upgraded braking and steering systems. The ZR-1 was fitted with Goodyear Eagle Gatorback tires having a size of 315/35/17 specially made for the car along with larger ventilated disc brakes. The Bilstein engineered FX3 suspension allowed for three driving modes Touring, Sport, and Performance.
A new and unique 6-speed manual transmission manufactured by ZF was installed with a code name of ML9. The transmission used a Computer Aided Gear Selection (CAGS) process which forced the driver to skip 2nd and 3rd gear and shift directly from first to fourth under lower accelerating conditions. The standard interior came with leather sports seats and a Delco/Bose sound system.
Tested performance figures by various sources reported 0–60 mph 4.9 seconds and a quarter mile time of 13.4 seconds. The braking distance was noted at 132 ft from 60 mph. The car's top speed was 179 mph.
1996 Collector Edition
The 1996 Collector Edition was the final C4 Corvette, just as the 1982 Collector Edition was the last of the C3s. It was available in Sebring Silver paint, silver 5-spoke alloy wheels, special emblems and seat trim. 5,412 Collector Additions were built, 4,031 were coupes and 1,381 were convertibles. Sticker price was $1,250 more than the base model Corvette.
The Collector Edition and Grand Sport came with the same LT-4 engine producing the impressive 330 hp and 340 lb⋅ft of torque. Estimated performance times of 0-60mph in 4.9 seconds, a quarter mile time of 13.7 seconds and a top speed of 165mph.
Other Notable C4 Corvettes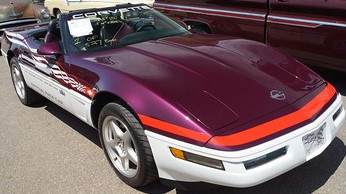 Any limited or special edition models are more desirable. Some are more expensive than others in todays market.
1986 Indy 500 Pace Car – 1986 marked the return of the convertible C4 Corvette, first convertible Corvette sold since 1975. All 7,315, 1986 convertible Corvettes in whatever color sold had "Indy 500 Pace Car" console identification and Pace Car stickers included.
1988 35th Anniversary edition – An all white Corvette coupe with white wheels and all white interior. It also features a removable black top and came equipped with its own unique emblems. The 35th Anniversary car is the 2nd Serialized Corvette in the production history of the C4 Corvette, each car received an engraved number plaque on the console. 2,050 cars were built and 180 of these had manual transmissions, making this a rare and collectible model.
1993 40th Anniversary package – Included Ruby Red metallic paint and Ruby Red leather sport seats and with Ruby Red Center Caps. The package also came with a special trim and 40th anniversary side emblems. 6,749 were sold at an additional sticker price of $1,455. All leather seats have the 40th emblem embroidered on them.
1995 Corvette Indy 500 Pace Car – 527 C4 convertibles were pace cars for the Indianapolis 500 for a second time and a special pace car edition was offered.
1984 Corvette – The first C4 Corvette produced. Some people really like them and other avoid them. There is definitely something to be said about owning the first model year of a vehicle.
1992-1996 LT1 engine years – These models featured the updated LT1 engine, producing up to 300 horsepower, and improved handling and braking capabilities.
Conclusion
The Corvette is a truly iconic car that has captured the hearts of its drivers for decades. 38 or so years ago, the C4 Corvette was introduced to the world, and it has been a favorite of mine ever since. The C4 Corvette is the least appreciated Corvette but I believe they are amazing in their own right and launched the next generations (C5-C8) into their consistently impressive performance numbers. From 1984-to 1996, the Corvette was designed to be a true American sports car with a distinctive style, and each one of these years had its impressive performance numbers.
Best year for C4 Corvette? Ultimately, the best year for a C4 Corvette is a subjective one and depends your personal preferences and priorities. It's important to do some research, evaluate the condition, the history of the car including written documentation from the buyer. Milage is also important and a possible inspection by a certified mechanic. But most of all, take a test drive before making a decision.
Disagree with my choices or feel I forgot one? Please leave a comment in the comment section of this post. I look forward to hearing from you.